What We Do

The Hammer Band organization currently runs its From Violence to Violins program in the classrooms of 35 junior and middle schools in the high risk Toronto neighbourhoods of  Jane and Finch,  the Regent Park area, Northeast Toronto and in Brampton.
Believing in the power of music and music instruction to help kids change their tune, he walked into a public school in the Jane/Finch corridor and offered to teach there. Today, with five other professional musicians, The Hammer Band is in 35 schools reaching more than 700 children in grades four through high-school.
They take free lessons on donated violins in classrooms within the safety and security of their own school settings. Many of them have been with the program since its inception, with more joining every year as resources allow. Plans are to expand to numerous Toronto schools (and beyond) to introduce hundreds of kids to violins, other instruments, musical performances and the power of team-work.
Through learning music together, they learn the art of listening, focus, self-discipline, tolerance, working towards a goal and working together in harmony as a community.
Inspired by the strong desire to make a difference in neighbourhoods where kids live in fear of or are influenced by gangs, violence and drug abuse, Moshe Hammer and his team of music teachers hope to show these kids options to violence, keep them off the streets and help them work towards a bright future.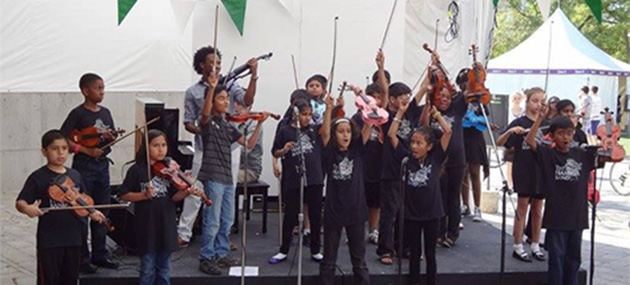 PROGRAMS
SUMMER PROGRAMS
Summer 2015
The Hammer Band again offers Summer Classes once a week to three schools in the GTA. Summer can be a long time to be without your violin, so we are pleased to be providing summer classes throughout July and August, in three schools: Firgrove, Crescent Town and Lord Dufferin. The program brings the kids together for a fun-filled summer of music.
Summer 2014
The Hammer Band is offering Summer Classes at GTA area schools.
Summer 2013
The Hammer Band again offers full week camp during the first week of July at Firgrove in the Jane and Finch region and Crescent Town in East York.
Summer 2012
Summer camp is offered at two schools during the first week of July.  One was at Topcliff Public School, located just south of Jane and Finch, and the other was at George Webster, located to the north of Danforth and Main.
See More