September 22, 2020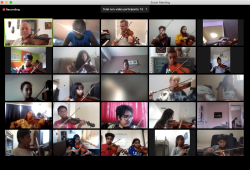 The Hammer Band Summer Jam was a huge success. Over the 8-week Summer program, we had nearly 200 students participating in online classes and lessons. We also hosted a weekly zoom party where we had 50 students in one virtual session taught by a different Hammer Band teacher each week. In these parties we learned new songs, played games, had fun trivia sessions and more.
Having the chance to test out these online virtual systems was crucial for us as we move into the new school year where we will be fully online until further notice. To learn more about how we are continuing our program during the COVID-19 pandemic, please click here.
Finally, we sincerely thank our generous donors and supporters for making this Summer possible. Through our 2-month GoFundMe fundraising campaign we raised over $27,000 of our $30,000 goal, and we cannot be more thrilled. To show you just how much this Summer meant to our students, here are a few quotes:
"Since a young age, it has been an aspiration of mine to be able to play the violin. I heard it was good for the mind, I liked its repertoire the most, and it looked like a lot of fun. But, because of how costly it was, I wasn't able to. Through the Hammer Band alone was I able to fulfill this dream. I also made quite a lot of friends through playing the violin, and the experience of learning together with my peers is invaluable to me.
I am most glad that I was able to spend the summer continuing lessons and attending jams, especially during this era. It made my time at home feel a bit less depressing, and for that, I am grateful. The quizzes were one of my favourite parts, might I add."
"My favourite part of the summer jam was to connect with all of the Hammer Band Students through out the GTA in a time where we can't meet one-another in-person."
"My favourite part of the Summer Jam was learning new songs and working with different students and teachers. I also liked all the jokes that everyone shared. I am excited for our next Hammer Band Lesson!"
"My favourite part about the Hammer Band summer jam was learning new songs like ode to joy with amazing teachers who are so talented. I am truly blessed that I got a wonderful opportunity to learn from these awesome teachers. Also it's so cool how even through the challenging times we still came together and learned a beautiful instrument 🎻 . I am so sad that the summer jam has come to an end but I look forward to learning more. The summer jam was for sure one of the best things this summer and I'm glad that I took part in this. Thank you :)"