Our Story

Internationally-renowned violinist Moshe Hammer, the driving force behind The Hammer Band, recalls: "During the 'Summer of the Gun' in Toronto (2005), I was preoccupied with the sad fact that young people – even pre-teens – carry arms regularly and sometimes use them.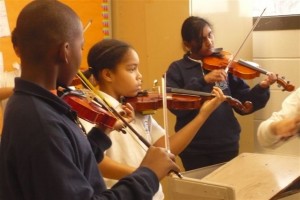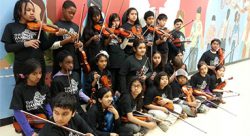 When imagining myself in those kids' shoes, or -minds- it became obvious that they were desperately looking to belong, longing to feel good about themselves.  I knew then as I do now that introducing young people to music education develops listening skills and self-respect, pride in their accomplishments and sensitivity to others, and has the potential to bring troubled young people into a positive group of youngsters and teachers.  More time with the violin means less time on the street.  By the end of that summer, The Hammer Band  was born."
The Hammer Band is a charitable organization that started with an idea, as renowned violinist's Moshe Hammer's response to Toronto's tragic "summer of the gun." Believing in the power of music and music instruction to help children of diverse backgrounds from at-risk neighbourhoods to "change their tune," he walked into a public school in the Jane/Finch corridor during early 2007 and offered to teach there, in venues that are known, safe and secure for the children. That year saw two schools with 40 youngsters participating.
Today, with the help of other professional musicians to teach the students, The Hammer Band is in 42 schools reaching more than 1,100 children in grades 4 through high school. We have also started master classes for smaller groups of promising and talented players, who benefit from more individualized instruction.