Programs

What This Year Will Look Like
In recent weeks we have put measures in place to continue teaching our students while keeping both students and teachers safe. This means a complete shift to online learning – something we have spent the Summer months perfecting. Students have shown us that they are more eager than ever to continue learning online, and our teachers have risen to the challenge. Here are the main changes from our normal education format:
Lessons and classes will take place after school hours and on weekends, rather than during school hours
Due to the restricted teaching hours, classes will be comprised of more students than normal
All in-person special events such as school concerts will be prohibited until further notice
We are all doing our best to adapt to the constantly changing circumstances around us. However, our primary goal remains to provide our services to as many students as possible.
Whether you are a volunteer, supporter, donor, student or parent, we encourage you to reach out to us at [email protected] for more information on what we are doing to keep our teachers and students safe while continuing our important work.
50 Hammer Band Students Gather for our Virtual Summer Camp!
This month marks the beginning of our ongoing Hammer Band Summer Jam, where 200 students are taking weekly violin lessons online. Every Tuesday, we host a large group party with over 50 students on Zoom at one time! Students have the chance to play games, learn new songs, and show off their hard work in front of the group. Here's a small glimpse into our weekly Zoom parties: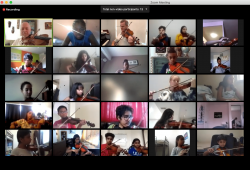 You can help us by supporting our Summer fundraiser at www.GoFundMe.com/thehammerbandsummerjam
All proceeds will go toward continuing these wonderful Summer get togethers.
The Hammer Band Summer Jam Gives our Kids the Chance to Study Over the Summer!

In light of all of the cancellation of Summer camps and music programs, The Hammer Band is running a summer music program for children and youth in the underserved neighbourhoods of the GTA beginning in early July, 2020.
The Hammer Band Summer Jam will provide a virtual musical experience, through interactive games, fun activities, lessons, practice challenges and on-line concerts! We are committed to giving our Hammer Band students every chance to learn, thrive, have fun and be happy during this very difficult time.
Our goal is to help our Hammer Band students explore their imaginations and discover creativity through the power of music. This Summer jam is a special program we are running for this summer of 2020.
Let THE JAM begin!
What We're Doing During These Times
These are confusing, anxiety-filled, and uncertain times for all of us. But this doesn't mean that our important work has stopped. Our services just look a little different during this time of uneasiness and uncertainty. Here's what we're doing:
Connecting with students and encouraging them to use music and art as an outlet during these times.

Providing one-on-one and group lessons to any students that are willing and able to do so.

Coming up with creative ways to operate in a virtual environment, and

Planning ahead for next year to ensure we are able to continue our work whether it be online or in-person.
These program changes have not been easy, and our staff, teachers and students have been incredible at adapting.
For a glimpse into the new ways we are connecting with our students, check out the following video of one of our teachers, Praise Lam, reaching out to her students with a positive message.
Finally, we would like to let you all know that we welcome donations of any size to help us move forward as we begin preparing for the school year ahead.
December 2015
We are now teaching  at 35 schools to over 700 children!  We are also excited to announce our first Hammer Band Orchestra under the direction of Ross Inglis.  For a complete list see  Our Schools.
October 2014
We are teaching music in 30 schools, including three in Brampton.
And there are 600 wonderful kids that are playing music by Beethoven, Beatles, as well as Fiddle Tunes and Folk Songs. For a complete list, see Our Schools.
October 2013
The Hammer Band is present in 23 schools around the GTA.
When there are so many kids in the program, some show musical talent.  For that reason, we added master-classes and private lessons to those students.
For a complete list, see Our Schools.
October 2012
The Hammer Band's program of violin and cello lessons begins at 18 schools in 3 priority neighbourhoods of Toronto, including 3 new schools in the Regent Park area: Lord Dufferin Junior and Senior Public, Rose Avenue Junior Public, and Sprucecourt public schools. For a complete list, see Our Schools.
July 2012
The Hammer Band's second annual summer camp is held at Topcliff elementary at Jane and Finch as well as at George Webster Elementary. Students participate in violin lessons throughout the week and attend a special presentation by Marilyn Lightstone.
September 2011
The Hammer Band's program of violin and cello lessons begins in 12 TDSB school venues along the Jane/Finch corridor (see Our Schools), and three new ones in East York: George Webster, Crescent Town and Secord.