Summer Programs

A Successful Summer!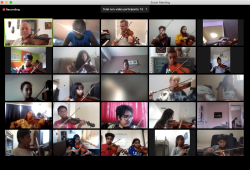 The Hammer Band Summer Jam was a huge success. Over the 8-week Summer program, we had nearly 200 students participating in online classes and lessons. We also hosted a weekly zoom party where we had 50 students in one virtual session taught by a different Hammer Band teacher each week. In these parties we learned new songs, played games, had fun trivia sessions and more.
Having the chance to test out these online virtual systems was crucial for us as we move into the new school year where we will be fully online until further notice. To learn more about how we are continuing our program during the COVID-19 pandemic, please click here.
Finally, we sincerely thank our generous donors and supporters for making this Summer possible. Through our 2-month GoFundMe fundraising campaign we raised over $27,000 of our $30,000 goal, and we cannot be more thrilled. To show you just how much this Summer meant to our students, here are a few quotes:
"Since a young age, it has been an aspiration of mine to be able to play the violin. I heard it was good for the mind, I liked its repertoire the most, and it looked like a lot of fun. But, because of how costly it was, I wasn't able to. Through the Hammer Band alone was I able to fulfill this dream. I also made quite a lot of friends through playing the violin, and the experience of learning together with my peers is invaluable to me.
I am most glad that I was able to spend the summer continuing lessons and attending jams, especially during this era. It made my time at home feel a bit less depressing, and for that, I am grateful. The quizzes were one of my favourite parts, might I add."
"My favourite part of the summer jam was to connect with all of the Hammer Band Students through out the GTA in a time where we can't meet one-another in-person."
"My favourite part of the Summer Jam was learning new songs and working with different students and teachers. I also liked all the jokes that everyone shared. I am excited for our next Hammer Band Lesson!"
"My favourite part about the Hammer Band summer jam was learning new songs like ode to joy with amazing teachers who are so talented. I am truly blessed that I got a wonderful opportunity to learn from these awesome teachers. Also it's so cool how even through the challenging times we still came together and learned a beautiful instrument 🎻 . I am so sad that the summer jam has come to an end but I look forward to learning more. The summer jam was for sure one of the best things this summer and I'm glad that I took part in this. Thank you :)"
The Hammer Band is Featured on CityNews
We are thrilled to share that we were featured in a wonderful TV spot on CityNews earlier this week in Toronto. Check out the video for yourselves:
50 Hammer Band Students Gather for our Virtual Summer Camp!
This month marks the beginning of our ongoing Hammer Band Summer Jam, where 200 students are taking weekly violin lessons online. Every Tuesday, we host a large group party with over 50 students on Zoom at one time! Students have the chance to play games, learn new songs, and show off their hard work in front of the group. Here's a small glimpse into our weekly Zoom parties: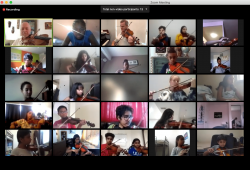 You can help us by supporting our Summer fundraiser at www.GoFundMe.com/thehammerbandsummerjam
All proceeds will go toward continuing these wonderful Summer get togethers.
The Hammer Band Summer Jam Gives our Kids the Chance to Study Over the Summer!

In light of all of the cancellation of Summer camps and music programs, The Hammer Band is running a summer music program for children and youth in the underserved neighbourhoods of the GTA beginning in early July, 2020.
The Hammer Band Summer Jam will provide a virtual musical experience, through interactive games, fun activities, lessons, practice challenges and on-line concerts! We are committed to giving our Hammer Band students every chance to learn, thrive, have fun and be happy during this very difficult time.
Our goal is to help our Hammer Band students explore their imaginations and discover creativity through the power of music. This Summer jam is a special program we are running for this summer of 2020.
Let THE JAM begin!
Summer 2015
The Hammer Band again offers Summer Classes once a week to three schools in the GTA. Summer can be a long time to be without your violin, so we are pleased to be providing summer classes throughout July and August, in three schools: Firgrove, Crescent Town and Lord Dufferin. The program brings the kids together for a fun-filled summer of music.
Summer 2014
The Hammer Band is offering Summer Classes at GTA area schools.
Summer 2013
The Hammer Band again offers full week camp during the first week of July at Firgrove in the Jane and Finch region and Crescent Town in East York.
Summer 2012
Summer camp is offered at two schools during the first week of July.  One was at Topcliff Public School, located just south of Jane and Finch, and the other was at George Webster, located to the north of Danforth and Main.
Summer 2011
The first Hammer Band summer camp is offered for one week during July at Topcliff Public School.
For the first time ever we offered a summer long program at Sprucecourt Public School in Regent Park.  The classes were offered once a week for the duration of the summer school break.  This allowed students who participated to have continuous violin instruction for an entire year.