July 17, 2020
This month marks the beginning of our ongoing Hammer Band Summer Jam, where 200 students are taking weekly violin lessons online. Every Tuesday, we host a large group party with over 50 students on Zoom at one time! Students have the chance to play games, learn new songs, and show off their hard work in front of the group. Here's a small glimpse into our weekly Zoom parties: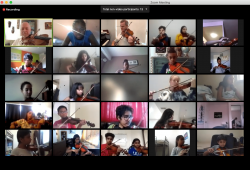 You can help us by supporting our Summer fundraiser at www.GoFundMe.com/thehammerbandsummerjam
All proceeds will go toward continuing these wonderful Summer get togethers.