April 14, 2022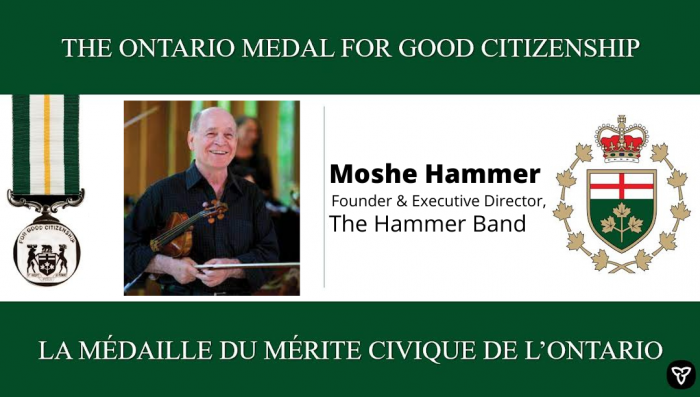 We are thrilled to announce that MOSHE HAMMER, Founder and Executive Director of The Hammer Band, has been awarded the Ontario Medal for Good Citizenship. Established in 1973, the Ontario Medal for Good Citizenship honours individuals for their exceptional long-term efforts and outstanding contributions to the well-being of their communities throughout the province. Recipients demonstrate citizenship in action and their lives serve as an example to all Ontarians.
This tremendous honour recognizes the outstanding contribution Moshe Hammer has made to our society, giving thousands of children and youth the many benefits of music education, together with invaluable life skills such as patience, respect, teamwork and perseverance. Every day, Moshe tirelessly dedicates himself to enriching the lives of children in at-risk areas of our community. Without question, he is a most deserving recipient of this award and we are VERY PROUD of all he has accomplished for The Hammer Band. CONGRATULATIONS MOSHE!
PLEASE HONOUR MOSHE HAMMER'S TREMENDOUS ACHIEVEMENT AND OUTSTANDING COMMITMENT BY DONATING TO THE HAMMER BAND.
The Hammer Band provides violins and music lessons (at no cost) to children and youth in disadvantaged communities across the GTA. Our work has changed the lives of thousands of children over the past 15 years, and we are very proud to say that our program has continued throughout the pandemic. Published studies demonstrate – unequivocally – that music education carries numerous life-changing benefits beyond proficiency in the art itself, including improved academic performance, lower drop-out rates, and increased self-esteem and community awareness. By donating to The Hammer Band, you will help less fortunate kids in your own backyard.